How long will my child need tutoring? Progress depends on how much effort is given during each session. I also recommend follow-up activities that reinforces what was learned that week. Daily practice helps improve our memory and takes information from the working memory into long-term memory.
How long are tutoring sessions? Sessions vary from 1 hour per session for private lessons to 90-minute sessions for small groups.
Do you offer in person tutoring sessions? Yes, by appointments and when available. I have an office location in Douglasville, Georgia where I meet my clients. There is a comfortable reception area where parents can wait as we have our tutor session.
Do you help students with IEPs, SST, or RTI? Yes. I've been teaching students with IEP (Individualized Education Plans) since 2001. I have a Masters in Special Education from Grand Canyon University. Teaching students with exceptionalities is my area of expertise.
Do you have any reading resources? Yes, here a free guide 4 Key Components to Increasing Reading Levels. Click on the image.
If your child has an IEP or 504 Plan, refer to the IEP Consultations and Services website page for more resources.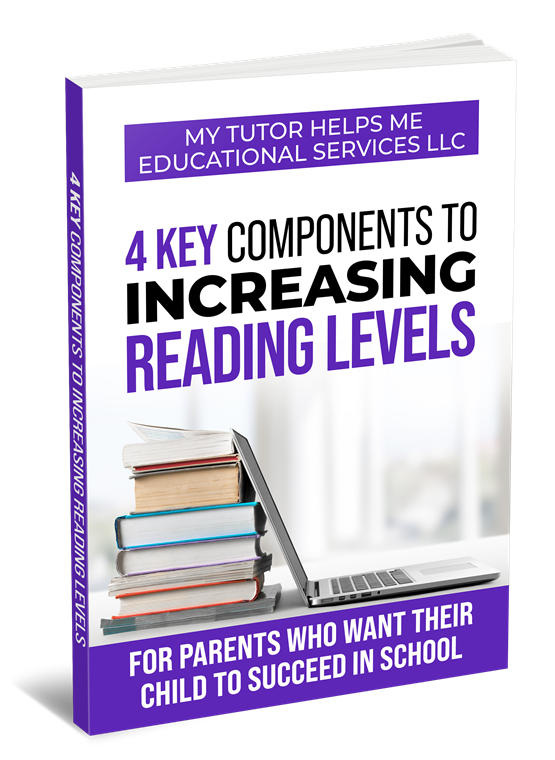 What additional support do you offer? Join our Facebook Group The Literacy Skills Club for Parents for free resources, webinars, Lives and anything involving literacy.
Do you offer summer sessions? Yes, and your child will really enjoy the in-person and online summer sessions. They are very interactive.
During the summer I travel to various locations and therefore the lessons are more interactive in accordance with the destination I'm visiting. For example, if I'm visiting a museum, I'll incorporate my visit into your child's lesson this way they get to experience reading in action and how it's used in everyday life around the world.
Summer sessions are strongly suggested because it's the time of year in which most students experience reading loss. Most students return to school with a significant decline in their reading levels and can take the full school year to regain and then the cycle repeats itself. Imagine your child returning to school at a higher grade level than when they ended the previous school year. It's such a great feeling to be ahead.